There's a new Stuff Pack coming! The Sims 4 Perfect Patio is expected be released next week and includes new outdoor dining and recreation items. The most exciting addition is the hot tub, which can hold up to eight Sims – or two; if they're feeling frisky.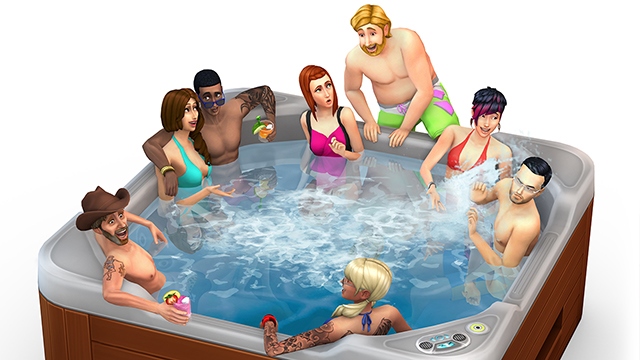 Perfect Patio Stuff gives your Sims all the things they need to create an awesome outdoor space. There's a new grill and patio bar where Sims enjoy some outdoor dining, and new furniture and décor to help keep your Sim's back yard looking fresh and stylish. New swimsuits, hairstyles, and casual outfits are also included for Sims who want to relax in the afternoon sun.

But most exciting is the addition of the all-new hot tub! Up to eight Sims (including children, for the first time in The Sims history!) can be in the hot tub at once. It's a great place to hang out, and can get even better if your Sims enhance it with the stereo and aromatherapy upgrades. Sure, hanging out in hot water is pretty awesome, but listening to some killer music and enjoying pleasant aromas at the same time? That's livin' the life.
Almost everything included in this Stuff Pack was included in the base game of The Sims, The Sims 2 and The Sims 3. But what the heck; billion dollar companies like EA need the extra cash.