This download is only for
The Sims 2
. [
How to install?
]
Does NOT require 'moveObjects' to pick up the TV when placed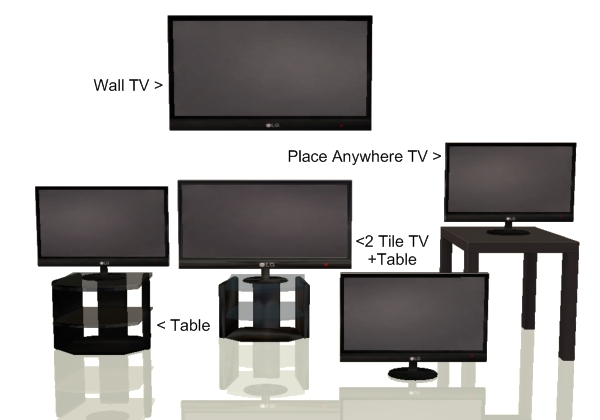 Includes: LG 2 Tile LCD Television with attached Table, LG Place Anywhere (All surface) Flatscreen Television, LG Widescreen Wall TV, TV Table Mesh w/ Glass Subset.  All Base game compatible. Will work in any EP Config.
The Small Flatscreen can be placed on any surface, including End Tables, Coffee Tables, Shelves, The Floor etc.
Polygon Counts: Place anywhere TV: Polygons: 258, Vertex: 292 ~ Low, Wall TV: Polygons: 130, Vertex: 112 ~ Low, Floor TV: approx. Polygons: 1036, Vertex: 1180 ~ Low, Table: Polygons: 774, Vertex: 880