We were lucky enough to get the hugely talented Peacemaker IC to answer a few questions for us! You may know him from Simsational Designs; where he frequently releases vibrant and colorful new content for our games. Peacemaker IC is one of my favorite creators, which is why his stuff appears in our Best Community Finds section so many damn times.
Could you tell us a few things about yourself?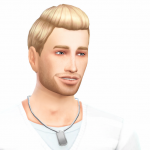 Not much really. I am just a simmer that started playing with the release of The Sims 3 in 2009. I love building, and eventually I wanted to try my hand at retexturing clothing, then frankenmeshing, then object creation. I am a guy, which seems to be an oddity in this community since we are heavily out-numbered, but I am OK with that. I have also done many things in this community from modelling competitions, moderating forums, and more recently helping out at Simatography and their Machinima festival called SIFF held twice a year. Outside of my internet alter ego I am just an average Aussie guy in his mid 20's. I have a double degree in Chemistry and Extractive Metallurgy, enjoy cooking, gardening and hanging out with friends. I also love playing RPG's like Mass Effect and Skyrim, but also love causing havoc in games like GTA:Online.
Do you spend more time creating or playing?
I would say that maybe 80-90% of my time is spent creating, and when I do actually play, I get inspired to make something else. So it really is a cycle. I don't consider building as playing though, since I am creating something to play with, which is something I have enjoyed since I started playing TS3. That takes up a big chunk of my creating time too. With the release of GTW I am playing more then I used to though. The business aspect is fun to play and I made a store to sell my own creations. I will always be a creator more then a player though. I see The Sims franchise as more of a platform to express my creativity, and it does that very well.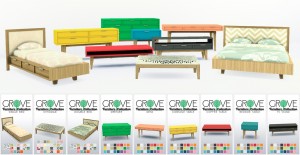 Of all the great content you've released, what's your favourite?
Oh wow, that is a hard question. I have many favourites, but the one thing that makes me go "I can't believe I made that" would be my Grove Furniture Collection. The 9 items are my very first brand new meshes I have created. I still can't believe I actually got them completed and into my game. When I first started playing I never would have guessed I would be making new meshes for my game, so that makes me extra proud of myself that I have learnt so much.
Do you have any favourite creators?
I have a lot of them, but I like them for different reasons. When it comes to builders, I love ruthless_kk and her unique Victorian style, as well as Fischio and his ability to great the most magnificent, elegant and grand buildings with so many details. When it comes to CAS creators, I envy Darko and Cazy for their ability to create flawless hair for both TS3 and TS4. They are the only creators I get alpha hair from now because it is just so well made. For clothing, mesh edits, and recolours, I love LumiaLoversims, simsontherope, and so many more creators on Tumblr. They are just full of creativity, and inspire me all the time. Object recolours, I can't go past jorgha-haq and her children's creations which are just too adorable, as well as ajoya and Saudade Sims. There are just too many people that make recolours to list them all though. They put their own unique twist on EA objects and CC to give them new life. When it comes to object creation though, I have two people I hold in high regard. They would be Baufive and Sandy from AroundTheSims. They are just awesome, helpful people, and were willing to help me troubleshoot issues I had while making my first meshes. They are just awesome.
Why do you release your creations on your own website, instead of one of the larger communities?
I primarily make these creations for myself. I don't want to get anything out of it besides the satisfaction that people enjoy the content as much as I do. I would feel weird getting money for something I made for myself. I also like the ability to have control over my creations and if/when I need to remove them, fix them, and update them. Although I am bound to get more downloads if I shared my creations on sites like TSR or MTS, popularity, money, and number of downloads is not my motivation for doing this. It would actually detract from it and I would feel obligated to make content for others and not myself. That is no fun to me and would probably result in me never creating again. I also have a weak spot for being able to put my own design spin on how I present my content (I secretly love graphic design and typography), and larger sites can be rather restrictive on how stuff should look. I don't like being told my stuff needs to look a certain way, so in the end I chose a blog format and later my Tumblr. With the help from all the awesome cc finds sites out there, I am free to share my creations with my fellow simmers without constraints placed upon me.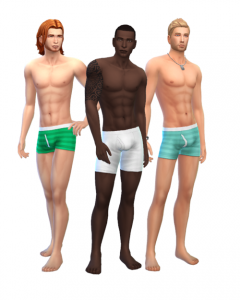 Are you willing to share anything you're currently working on?
Certainly. If people follow me on Tumblr, I usually post my latest Works-In-Progress (WIP) there for them to see. I currently have a few CAS items I am working on from underwear (which is sorely needed), to jeans, as well as a few t-shirt designs. I also have a lot of wall murals I am working on for the builders in the community, as well as rug recolours, paintings, and a few objects I made specificall for my retail store. I also have my Bayside Bedroom Set which I am waiting for TSRW to update so the style tool works for the items before I release them. I generally have a lot of ideas floating around in my head that are waiting to be made reality, but I just require the time to make it happen. I plan on doing more male clothing in the future and I can't wait until we can do proper frankenmeshing for TS4. The game has so much potential, that in itself is inspiring.
Thank you so much to Peacemaker for taking the time to provide such great answer our questions. Be sure to visit Simsational Designs IMMEDIATELY and fill your game with all his beautiful content. If you haven't already.