The Sims 4 Laundry Day Stuff is now available for purchase on Origin. The pack adds washing and drying machines, clothes lines, and an assortment of rustic home furnishings. From EA's release blog post:
In The Sims 4 Laundry Day Stuff Pack, your Sims will enjoy new gameplay focused on the most relaxing of chores: laundry. Sims will install sparkling new washing and drying machines to their homes, so they're always wearing the best and brightest clothes. For Sims who prefer being out in the fresh air, they can also use a washtub to scrub stains to their hearts' content, then hang dry on the clothesline to peacefully admire their hard work.

Don't like doing laundry? No problem! Transform your Sims' home into a more rustic abode with country-inspired decor that will make your Sims feel like they're one with nature. Home items include wood tables, wicker furniture, colorful rugs, floral-filled baskets, and more!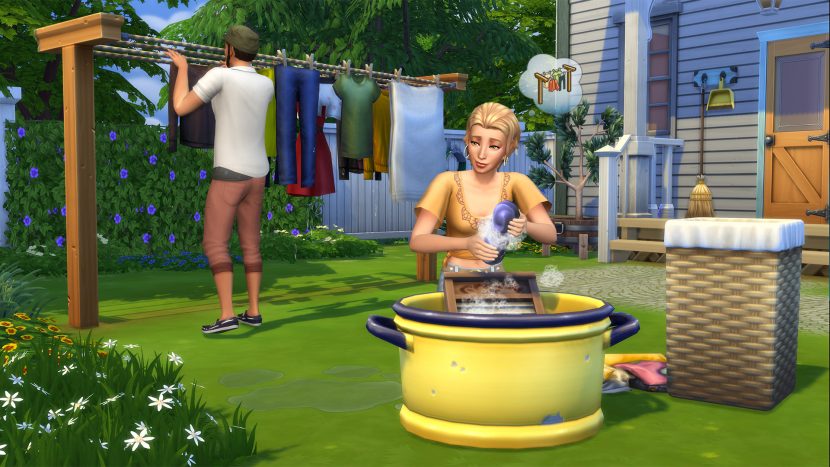 Laundry Day Stuff was the first stuff pack to be devised with input from the community, who were allowed to vote on what the game's theme would be. Eco Living Stuff won, promising new technology, green energy and means by which Sims can live an eco-friendly life.

There's no innovative new technology in this pack, no objects that harvest or utilize solar energy (other than the clothes line, technically), and there's nothing about harmful washing detergents and electric dryers that's even remotely "eco-friendly". It would seem everything except the laundry items were jettisoned from the pack.
So if you can't get enough of household chores and don't mind buying a half-baked product from a company twice voted "the worst company in America", grab a copy of The Sims 4 Laundry Day Stuff today!