The long anticipated December game update has finally arrived; bringing new careers, cheats and lots of gameplay improvements.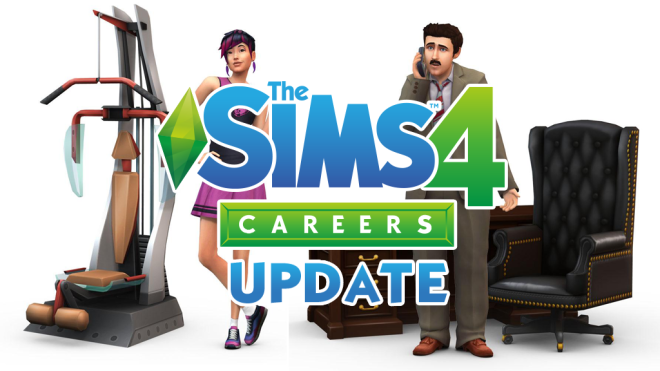 Athlete and Business career options have been added to the game. Athletes can follow the Professional Athlete or Bodybuilder branches, while Business Sims can choose between Management or Investor branches.
Three new cheats have also been added in this patch. You need to have testingcheats on enabled to use these. Descriptions provided by SimCitizens:
The Set as Head cheat has been fixed and can now actually be used. After enabled testing cheats, you can shift click on any object and place it on your active Sim's head.

The sims.give_satisfaction_points # cheat allows you to instantly give your Sim satisfaction points based on the number inputted.

Players looking to unlock all career reward furniture without doing the work can use thebb.ignoregameplayunlocksentitlement cheat.

At last, the Move Objects cheat has made it to The Sims 4! bb.moveobjects allows you to place any item in any location, disregarding placement rules. In addition, pushing the 0 number key will move an object down, while the 9 number key will move it up.
The patch also includes numerous tweaks that should make gameplay more pleasant. Issues like rapid weight gain, ridiculously frequent object breakage and the weird UI restrictions when a Sim is at work have all been fixed. You can see the full list of changes below:
Some career and aspiration goals were deemed too difficult or too large a gap between previous goals were made easier to complete.
Fruit and vegetables obtained through gardening can now be eaten.
Several doors, windows, and roof trims were given new color choices.
The rate of weight gain was reduced by half when your Sim is actually hungry.
Sims will no longer grab drinks from the refrigerator autonomously.
The lounge venue is no longer the Elder hotspot.
Objects will break less frequently.
Sims will now autonomously use swimming pools at venues.
You may now view the various panels for a Sim when they are at work.
A Sim's life stage will now display when hovering over them.
Taking screenshots is enabled during Create A Sim.
The phone menu and career panel have received modified designs.
A layer of dirt will form on Sims with low hygiene.
Origin will automatically install the update next time you run the game.