Welcome to the first post in our new Retired Creator Spotlight blog series. Each fortnight we're going to feature one of the best content creators from the days of The Sims 2. Recognizing that most of our readers are looking for Sims 4 content, we'll be showcasing TS4 conversions of featured creator's downloads.
Who was Adele?
Adele was creator of furniture, build mode items, hair, clothing and accessories who rose to prominence in 2008. Her specialty was period items; particularly Victorian, Middle-Eastern and Asian. Adele published her creations on both ModTheSims and her own AdeleVK.com (which we've helpfully archived).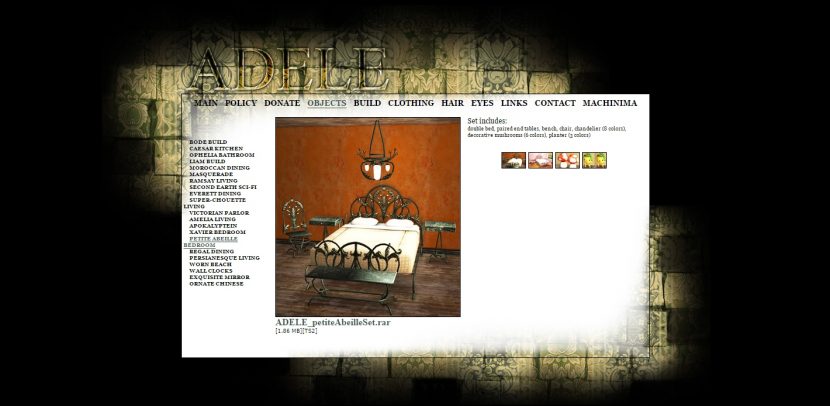 Conversions of Adele's Creations
The following conversions of Adele's Sims 2 downloads have been created. The list is surprisingly short considering how prolific Adele was during her time creating, however I'm sure more of Adele's great content will eventually make it to The Sims 4.
What happened to Adele?
Adele's website was sadly hacked somewhere around 2010. Adele announced that her site was "temporarily offline" with the following message:
Hi guys– I'm not dead!

My site was hacked. I spent a lot of time trying to remove the malicious content that had been injected, but every time I thought I was in the clear, I'd find another piece. After a month of trying to eradicate the 'infected' sources without success, I decided to nuke the entire thing from orbit.

So yeah! I will be re-uploading content as soon as possible– I apologize for the mess this has caused anyone who has linked to downloads on my site.
Unfortunately, the experience seemed to have disheartened Adele and she never returned to The Sims community. Hopefully Adele is living a happy and health life, with an equally rewarding outlet for her obvious creative talents.