EA's 2015 Gamescom conference unveiled the second expansion pack for The Sims 4. The Get Together expansion pack, expected to arrive in November, introduces the European-themed world of Windenburg! Your Sims can visit Windenburg and enjoy a pint at the local pub, play a few rounds of foosball, or dance the night away at a nightclub or disco.
From the announcement post:
Your Sims will be able to join different Clubs, each with their own interests, personalities, and styles. They have defined behaviours that dictate how they tend to act, including how they treat other Sims, and what they do or don't like to do. There will be a variety of Clubs waiting for your Sims when you first load up the expansion pack, but you're also able to create and customize your own. You can set their requirements, decide what behaviours they have, choose their preferred hang outs, and even give them distinct rewards.

Hanging out with groups of friends makes Get Together feel truly unique. Your Sim's in-game friends will act a lot like your real ones – whether you're going for a dip in the Natural Pools along the bluffs or just lounging around in the pub, groups will engage in new, exciting ways. Your Sim can take on their friends in a game of foosball, or try on outfits together with the all-new Walk-in Closet. They'll hang out and share experiences together in fun, new ways.

Your Sims will also be able to level up Dancing and DJing skills, both of which should make for even more energetic gatherings. Pump up the crowd by creating the perfect mix on the DJ booth, or start busting out some new dance moves in an Underground Disco.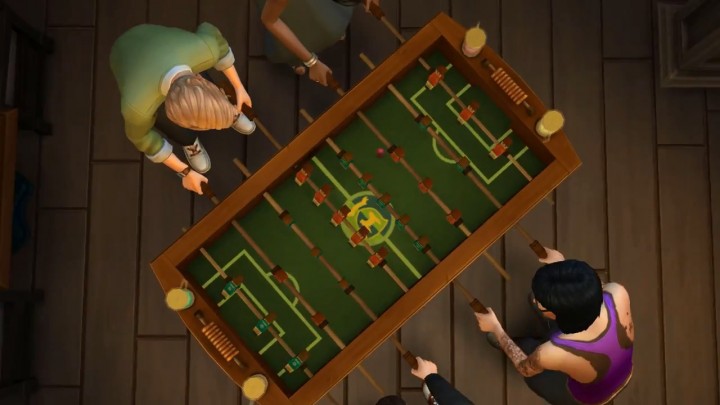 The official expansion pack trailer has already been released and can be watched on YouTube or embedded below.
Hopefully some of the new business types (pubs, cafes, nightclubs) will also work with The Sims 4 Get To Work